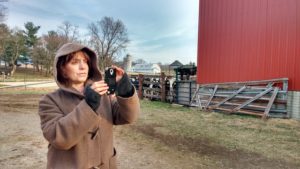 Amy Epstein is a writer, director and filmmaker based in New York.
Her short film I'VE GOT YOU BABE (an action/adventure pic) which she wrote, produced, directed and co-edited, premiered at the Film Society of Lincoln Center's 2000 New Directors/New Films Series at the Museum of Modern Art. Featuring Frederick Neumann of Mabou Mines and Lisa Welti of Via Theatre, it was acquired by the Sundance Channel and broadcast for their short films program.  It also played at the 30 Festival de Cine de Alcala de Hanares Comunidad in Madrid, the Clermont-Ferrand festival/market in France, the Kino Film Festival in Manchester, England, the 20th Women in the Director's Chair Festival in Chicago, the Not Hollywood Film Festival in New Paltz, New York, the Chashama Arts Festival and the Coney Island Film Festival here in New York.
Other work includes the five minute music film HOMAGE TO DRINK which stars Obie award winner Cynthia Hopkins. Directed and edited by Ms. Epstein, co-written and co-produced with Cynthia Hopkins, it screened at Joe's Pub in New York. The short documentary JOSEPH, about a 13 year old boy and his love of writing was produced and directed by Ms. Epstein and edited by Jeff Drury of Mad Mad Judy Productions. It screened at The American Film Festival of New York 2014.
She just completed a new short film, shot on HD, entitled BUT THIS IS HOW IT WILL END. Written, produced, directed and edited by Ms. Epstein, it features Obie award winner Steven Rattazzi.
In support of her playwrighting and screenwriting, Ms. Epstein has received fellowships from The Edward Albee Foundation and The MacDowell Colony.
Other work includes editing and script consulting, most notably for Alvin Tsang's award winning feature length documentary Reunification.
She holds a B.A. in English Literature from Hunter College and an M.F.A. in Film from Columbia University.
Photo Credit: Amanda Hammett